Every last sunday in April is WPD (world pinhole day): take a pinhole picture, upload to a worldwide gallery of images shot on that particular day. Although there's a 30-day period for uploading, I like to upload on the same day. I have built a polaroid pinhole for that purpose, but recently I have created a pinhole body cap for my little digital Fuji: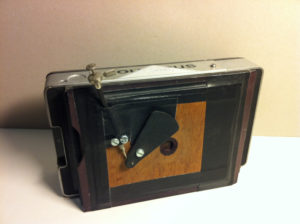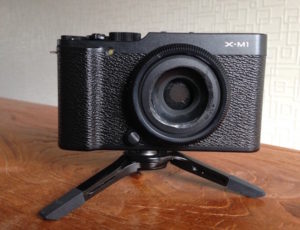 So now the Fuji can take care of the "same day upload".
The group of pinhole friends that I joined for a great WPD walk two years ago in Amsterdam are doing a get-together in Barcelona this year, but sadly enough I could not make that 🙁
Had to to stay around Utrecht this year.
The plan was to go to the "waterloopbos" for a day of walking and pinhole shooting with Marco de Vente, but the weather predictions were very bad, so we canceled it (we'll do it some other time, no worries).
But what to do on WPD 2016? Stay inside (warm and dry), or wait for the few sunny moments that might occur and go out when the sun shows itself? I opted for the last strategy, but made sure to take a pinhole shot at breakfast, just in case:

Luckily the sun came through, so I took the cameras and went for a ride.
First stop at a bridge in my home town of Utrecht, which has a nice set of barriers: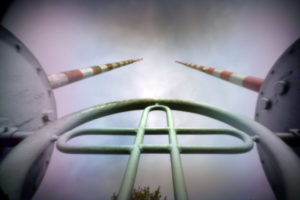 Then move on to a place that was tipped to me by a fellow pinholer, an artwork/landscape location. This consists of a concrete "bunker" (military hideout) which has been cut through the middle, and then a path was created. This path leads from the dike to a small lake.
The weather was great: clouds all around, but during the two hours I was there, the sun shined brightly. Here are some shots which I took, some taken with the fuji in pinhole and some iphone shots I took of the setup with the Anamorph camera and the 8Banners Mb. The two rolls of film are to be developed soon, so there will be some more images to show in a week or two. That will be a blog entry called WPD-II  🙂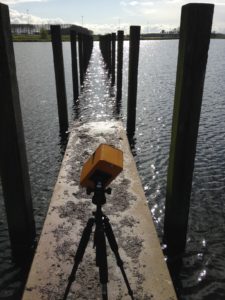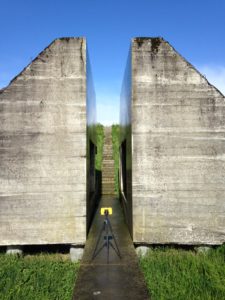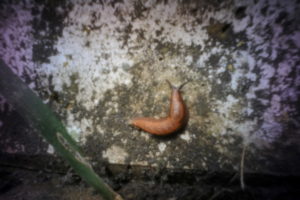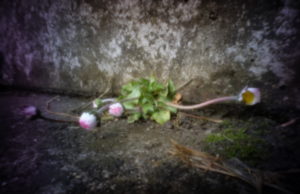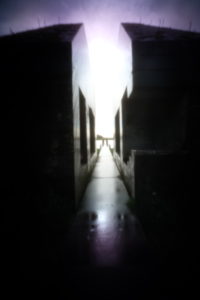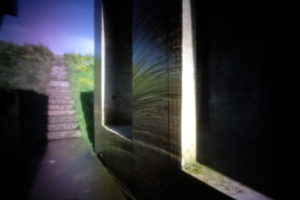 Then back home, with a stop at Starbucks, where the little Fuji made some extra shots, like this one: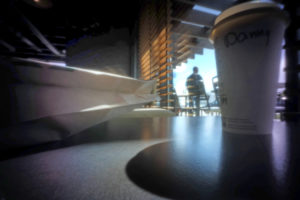 Finally, here's the shot that I selected for  the WPD gallery. My shadow is in the foreground, hiding the tripod and camera: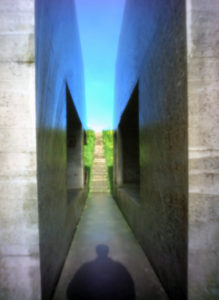 I'm curious to the results from the film cameras, especially the anamorph.
One advantage of this day near home over Barcelona: if they are all wrong, I can always go back!