Together with some pinhole friends I visited Udo Prinsen in his atelier (workshop).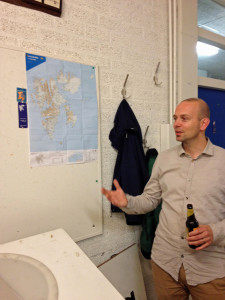 Udo was introduced to pinhole in one of my workshop-lectures at "foto De Zavel", like this one: CAFU)  in Utrecht, and he got hooked 🙂
Udo is fascinated by light and time, and he also started to do solargraphy. And this august he went along with a two-week expedition to Spitsbergen, accompanying a group of scientist as (the only) visual artist.
We spent an evening in his studio, listening to his stories on the trip, on the solargraph cameras that he placed, and enjoying the results that he took back.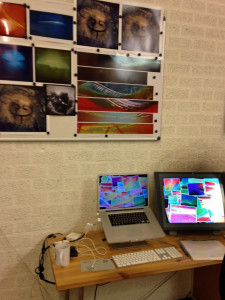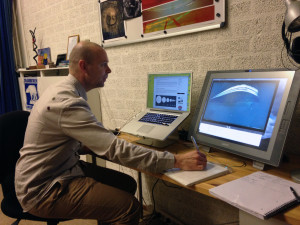 As you don't have many opportunities to get so close to the north pole, Udo took a lot of cameras along, hoping to get enough results to work with, and even sent out an installation with a series of cameras attached to it to Spitsbergen by mail. The Dutch 'scientist in residence' placed this installation on the roof of a building, set for a two-month exposure. Udo himself placed cameras on Spitsbergen at arrival, and collected them just before returning, so these were two-week exposures.
Some great images came out of it, which you can see (and buy) on his site The SEES project
There was a nice surprise for me involved: whenever I give a workshop on pinhole, I hand out some pinholes to take home and try out, or lend out one of my cameras. The reward that I ask is a pinhole print, whenever something succeeds. This expands my collection of pinhole images by other people than myself. I also join print exchanges, so my collection is from all over the world.
Udo gave me one of his prints, so now I'm the proud owner of a solargraph that was taken on Spitsbergen!
See more information on the expedition, the project and the solargraphs at  The SEES project.