WPD 2018 was on Sunday, April 29.
Together with a few other NL pinhole photographers we did a walk in Antwerp. Assembly point was at a café near the entrance of the st.Anna tunnel, which is an old foot tunnel below the Schelde river. And what happens when you're with a few pinholers in a café waiting for the rain to stop? Right, you get pinholed!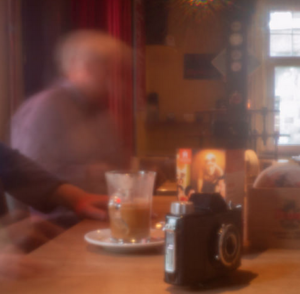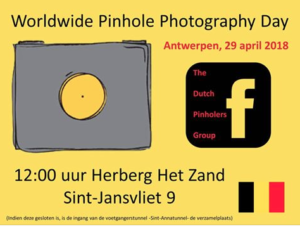 After we finished our coffee it was dry, and luckily it kept dry for the rest of the day. So we started our walk, and the first series of images was shot within the entrance building of the st.Anna tunnel, which holds old wooden escalators. Ofcourse we immediately stayed there for half our or so, to allow for the lengthy exposure times down in the hall below. Many people passed, some curious, some stoic as if they pass a group of guys with strange boxes on tripods every day.
I took some shots with my little FujiMX + the pinhole body cap that Todd Schlemmer has 3D printed for me. Again the collection of dust on the sensor prevented a real nice usable pinhole image. But it works great, digital pinhole 🙂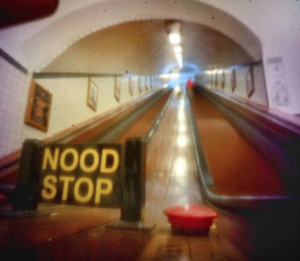 At the same time I placed the anamorph camera on the escalator side for a 20 min exposure. Here is the result of that attempt:



Then while the rest was still downstairs I went up and did the smae trick: placed a pinhole camera (the 8Banners Mb) at the top of the escalator.This picture with a 2 min exposure was used for the WPD gallery. Had to crop it to get a decent ratio with the 700px limitation of the WPD gallery.
Then we went on to walk along the schelde river, and on to the old fortress "het Steen". The anamorph shots I took were taken on Lomo film, and somehow the colors went wrong, so I converted some of them to B&W.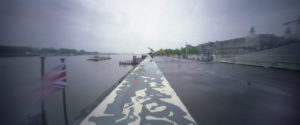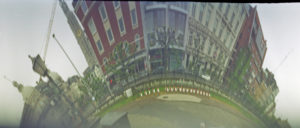 Soon I discovered that this walk was different than a walk with my regular photoclub: instead of being left behind because of long exposures and slow method, I was ahead of the group all the time 🙂
We took a break and ate a classic frites met stoofvlees at a cafetaria, here's mine in pinhole:

Then further walking over the market place, finishing up the last exposures, again a lot of looks from people passing by. After that we went to a small place called DOKA (short for darkroom in Dutch) which is a combination of café, gallery and shop for analogue photo supplies. Here we met with the photographer of the current exhibition, who created scenic images with maquettes (and he's now building a pinhole camera). A nice extra treat.
Back to the car/trains and back home. A nice pinhole day in Antwerp!