A few years ago my work was accepted for a curated pinhole show in Le Bourget near Paris. This was an exhibition with a theme: the four classical elements Earth, Water, Fire, Air. A great challenge, and I was happy to be accepted with a series of 4 images. Paris is not that far from Utrecht where I live, so I decided to drive there and attend the opening night. It was a nice experience, and there were quite some fellow pinhole photographers to meet, some from as far away as the USA.
Here is picture of us at that opening night: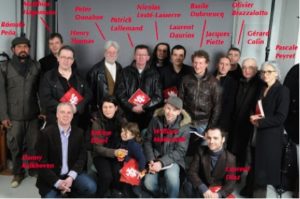 It was very nice to be there, meet them, and see my own work hanging on the gallery wall.
And then the exhibition moved from Paris to Barcelona, and from Barcelona it moved on to Basque country,  in the north of Spain.
And then it was lost… The four works, which were images printed "ready to hang" on forex, never came back. Which is a pity, because this printing method is quite expensive. I asked the curator/organizer on the whereabouts of the works. No response… So they are lost forever, I suppose.
But I still have the original negatives, so here I can recreate the series, in my own virtual exhibition space 🙂
Here they are, my pinhole interpretations of the four classical elements
Earth, Water, Fire, Air!